Rhinos Rugby Academy has added capped Eagles and certified coaches Amy Naber Bonte, Neariah Persinger and Hope Rogers to its USA SCHOOLS and Academy staff.
While the organization as a whole will benefit from the high-performance leadership, the girls' programs in particular will benefit from the targeted interactions.
Rogers has joined the Sacramento facility a USA SCHOOLS and Regional Academy coach and is charged with community outreach and the development of the women's rugby program there. The two-time Rugby World Cup veteran travels from Oakland to lead Monday and Tuesday training sessions – for boys and girls – and is also available for off-site sessions with interested teams in NorCal.
"I really do love working with younger kids," said Rogers, who holds a bachelor's degree in Childhood and Early Adolescent Education from Penn State. "They're hungry for knowledge and so enthusiastic about learning and working hard, and that energy and passion keeps my passion for rugby alive. I get done from a coaching session and I have the biggest smile on my face. It's amazing. They're learning so much and watching their growth in each session is the biggest joy for me."
The Level 300 USA Rugby-certified coach is still an active USA 15s player, and this opportunity with Rhinos arrived at the right moment. After leaving the USA 7s residency program in August 2019, Rogers joined the WPL's Life West for the fall season.
""My primary focus is training for the next 15s World Cup, so it's a blessing being able to coach and coach part-time," Rogers explained the perfect timing of Rhinos' coaching offer. "They understand my USA Rugby schedule, so when I have games and camps, they understand that and work around that for me. It's the best of both worlds: I get to expand my skill set and knowledge base just by coaching, and I still get to be an Eagle for the 15s team and play."
Good timing also played a role in Persinger's involvement with Rhinos. After the WPL season with Life West in the fall, the capped 7s Eagle and 15s pool player returned home to Oklahoma. She stayed active as a referee and Level 200 assistant coach with Broken Arrow.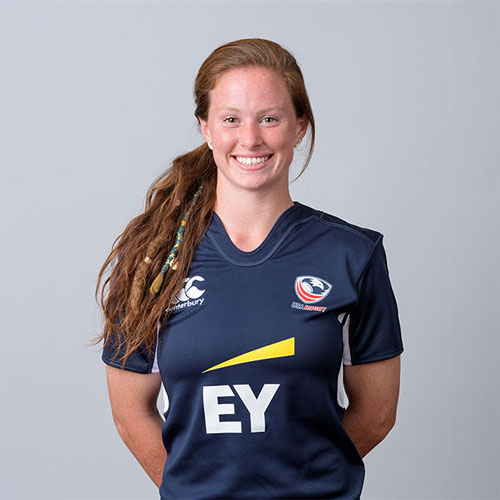 "I wanted to do some more coaching outside of my home state and see what kids were doing in a different part of the country," Persinger said. "I had some time off from rugby as a player, so my old college coach [Lindenwood University's Billy Nicholas] found an opportunity with the Rhinos Rugby Academy and connected me."
Persinger joined the academy girls' teams at the World Youth Rugby Festival in Irvine, Calif.
"I loved it," she enthused. "Everyone has their 'why' for why they play rugby, and I got some different perspective from these players. Some play for family, and others do it to stay out of trouble, or see it as a pathway to get out of their hometown. … But they all played with passion and pride."
In Oklahoma, Persinger is tasked with talent I.D. and last weekend attended a clinic in Texas for a look at the local talent. Persinger prioritized catch-pass skills in terms of a player's vital attributes, as well as a coachable attitude.
"I'm looking forward to developing that core group of players for a select side," Persinger looked ahead to the LAI 7s, where she'll help coach one of three academy girls' teams alongside Rogers and Naber Bonte. "You get a good group of girls and you coach them as they develop the values and morals and character you want to see out of them. They carry that to the new girls and continue a legacy that shows the younger Rhinos players what to work toward."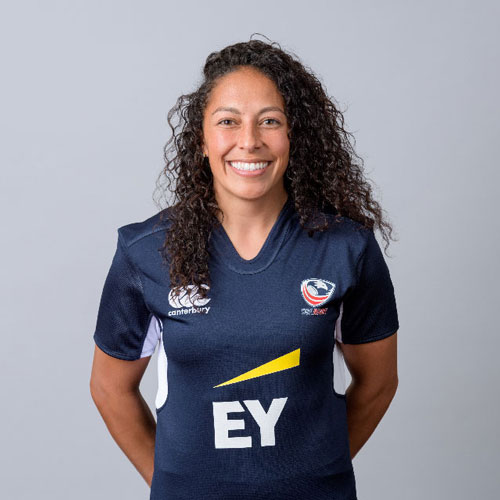 Developing culture and setting standards are also themes with which Naber Bonte has been considering in advance of her first Rhinos coaching post at the LAI 7s. The 15s Eagle is finishing her final semester at Life West chiropractic school and will be more regularly available after graduation. Naber Bonte has signed with a practice in Orange County and will lend her high-performance experience to the Rhinos Irvine facility.
"I've always wanted to be with a group of girls that was looking to head to the next level, that had that initial passion like when I started playing. 'How do I get better? What's my next steps,'" Naber Bonte said of coaching preferences. "Once you're at the high school level you know your body and athletic abilities. You're ready to take on college and see where your athletic career can take you."
Naber Bonte, Persinger and Rogers are all friends and USA pool players, ensuring a consistent and fun experience for players heading to the LAI 7s. The trio's coaching and mentoring is a means to give back to the game, and the Rhinos Rugby Academy youth are the beneficiary.