When it was announced that Rhinos and Premier Rugby Sevens had agreed a groundbreaking team license agreement for the California-based rugby program to become the official team licensee of the Loggerheads franchise, it was clear big things were coming.
The three-year agreement means that Rhinos are wholly responsible for on-field aspects of both the men's and women's teams, as well as coach and roster selection. Even contributing to the off-season development of PR7s' players and to continue developing the rugby players in their USA Rugby National Development Program.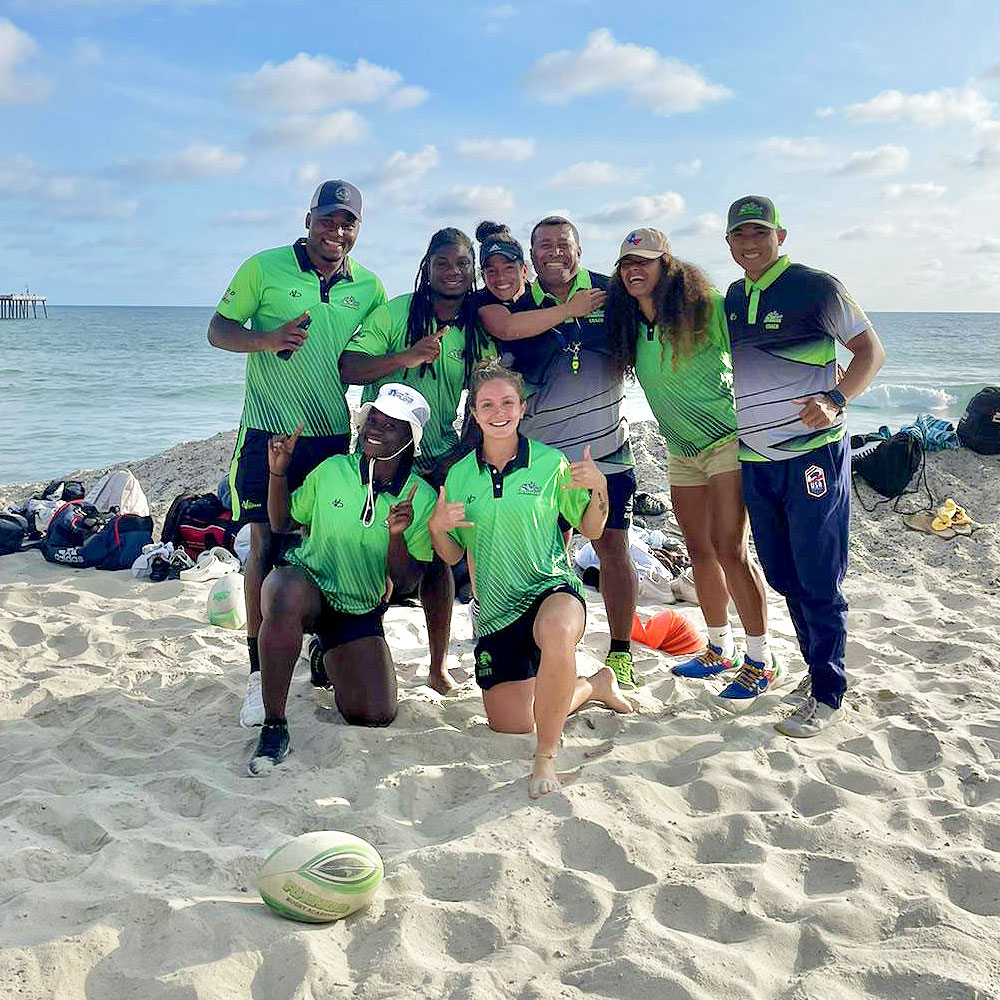 For the 2022 season, the Loggerheads' men will be coached by two of the Rugby Sevens legends, Waisale Serevi and Frankie Horne. During his playing career, Serevi won two Rugby World Cup Sevens titles, as well as two Commonwealth Games silver medals, as well as a bronze in 2006.
Representing Fiji across multiple formats for the better part of 20 years, Serevi moved into coaching towards the latter end of his career and most recently coached Russia between 2018 and 2019.

Our Rhinos team kicked off their fixture with a fierce battle against Asia Pacific Dragons and secured a 16 – 5 victory over the highly experienced team. Rhinos started off nervously in the first half but managed to regroup and scored their first try three minutes into the second half of the game. This was followed up with a remarkable swing of the ball that left the corner open for Ollie Nott to secure the first victory of many for our Rhinos team.
Having moved to America in 2011, Serevi has become an established coach in the country. Based in Seattle, Serevi helped to establish Central Washington University as one of the country's premiere rugby programs.
Inducted into the World Rugby Hall of Fame in 2013, the 54-year-old is excited for a new challenge in elite rugby coaching alongside Coach Frankie.
"I am so excited," Serevi said. "I thank Rhinos Rugby for the opportunity to be the head coach for the Loggerheads in 2022.
"I believe it is a good step for me moving forwards, and I thank Coach Frankie [Horne] for what he has been doing for the boys these last couple of months.
"I am looking forward to helping the boys get the business done."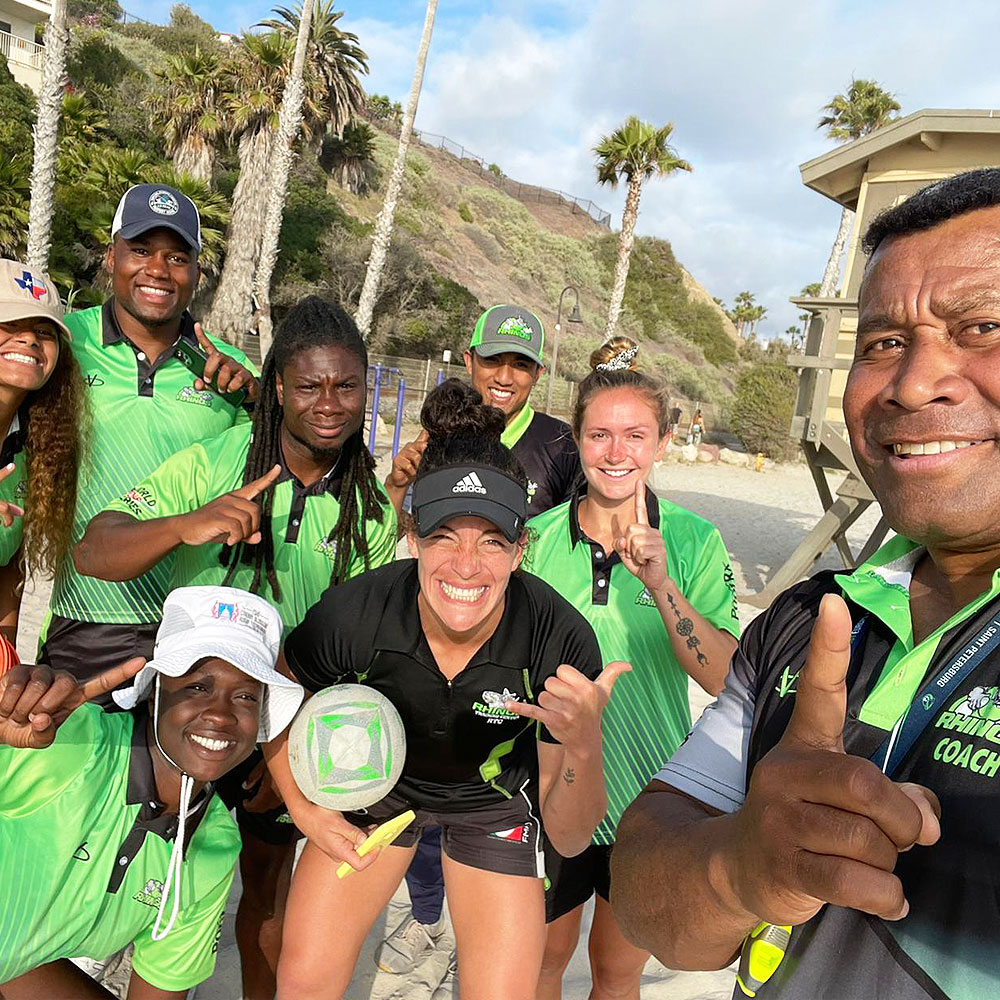 Numerous members of the Loggerheads squad are well known to Rhinos. In the cases of Christiaan du Toit, Brock Gallagher, Anthony Munoz, Dominick Iacovino, Jeremiah Munoz, Derek Adams and Jake Cassidy all having been a part of the Rhinos High-Performance program in San Clemente, California.
Having been under the tutelage of former Blitzboks captain, Frankie Horne, as well as the likes of Serevi, Ryno Combrinck, Andre Snyman and Chris Erasmus, the wider squad will gather on Wednesday in San Jose before taking part in several training sessions prior to the tournament getting underway on Saturday.
"We are meeting on Wednesday, and we are having a training run on Thursday," Serevi said. "Most of the boys are already here, so they understand a lot of the information that they have been given.
"The first thing we have to create quickly is a team culture, so that everybody binds together, and everybody works together, and we achieve the goals that we want to achieve.
"All these training sessions on Thursday and Friday will just lead to the first seven minutes on Saturday, and then we will just go from there."
In addition to Rhinos High-Performance players, there will be several well-known names from rugby in the USA also in the Loggerheads squad.
This includes Patrick Madden, the San Diego Legion half-back who will captain the side while Martin Iosefo is with Gary Gold's Eagles squad on the hunt for Rugby World Cup qualification against Chile.

Former USA Sevens international, and current Houston SaberCats back, Matai Leuta will offer his experience to the group, while Aaron Gray represented the Dallas Jackals in the 2022 Major League Rugby season.

On top of his Loggerheads commitments, Serevi will also be returning to California to coach at Rhinos. With plenty happening this July, including a scrimmage with the men's USA Sevens squad in Chula Vista, and a trip to Utah to compete in the North American Invitational Sevens, it is set to be a bustling period in Southern California.
With that in mind, 'the King' believes that he and his colleagues will have to take each day as it comes in order to compete on all fronts.
"I think it is the biggest month we have ever had," Serevi said. "It is a big month; we are looking after Loggerheads and we will have those three tournaments and the Summer Camps at the same time. It is huge.
"When you think about the next month, and the next couple of years, it will make you tired. I believe you should take it one day at a time. We have got to think about this weekend first, what we want to do, what we want to achieve and then we will go from there.
"We have San Jose, DC, then Utah [NAI7s] and then Austin. I believe the only way we should tackle this is one day at a time, do what is in front of us and smile. That should be the best way."

SATURDAY JULY 9 – PAYPAL PARK, SAN JOSE, CALIFORNIA
• 13:35 PDT, Loggerheads Men vs Headliners Men
• 15:55 PDT, Loonies Men vs Loggerheads Men
• 17:30 PDT, Men's Consolation
• 18:25 PDT, Men's Final