It is Day 1 for our young Rhinos Tens squad at the World Tens Series tournament in Bermuda.
This international, professional Rugby Tens Series serves as a highly competitive platform for teams to share a cultural rugby experience together. Players across the world have come together to showcase their talent and passion for the game.
Each match guarantees 20 minutes of high intensity, fast paced and hard-hitting action for fans to enjoy!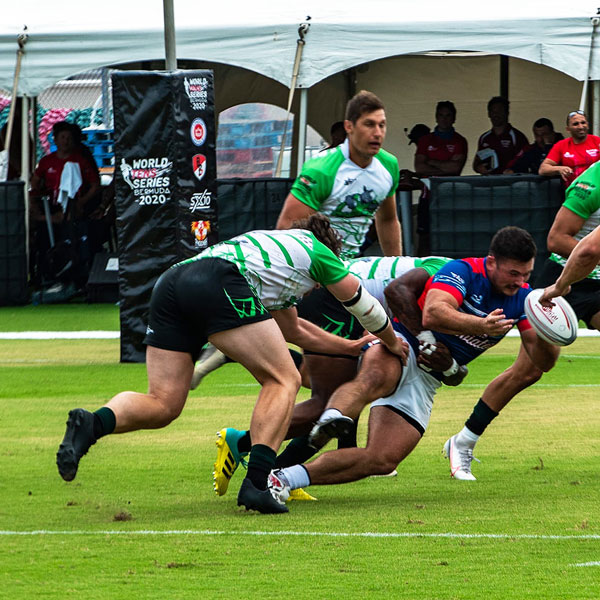 With that being said, we here at Rhinos Rugby are privileged to be part of such a pivotal moment in Rugby's first ever World Tens Series.
The team includes players from various cultures and backgrounds selected from US Rhinos Academy, US Colleges, MLR and Rhinos South Africa. Amongst the squad members is USA Eagle Mike Te'o which brings along a vast amount of experience, ranging from international Sevens to World Cup 15s.
Our Rhinos team kicked off their fixture with a fierce battle against Asia Pacific Dragons and secured a 16 – 5 victory over the highly experienced team. Rhinos started off nervously in the first half but managed to regroup and scored their first try three minutes into the second half of the game. This was followed up with a remarkable swing of the ball that left the corner open for Ollie Nott to secure the first victory of many for our Rhinos team.
"The main challenge of the first game was to see whether the group of players would be able to integrate as a team and build team cohesion, seen as it was their first time playing together. We focused on the basics, especially our defensive lines during each practice building up to the start of this event, this resulted in our team not conceding many points and provided the opportunity to win back the ball, ' Assistant Coach Justin Benn said.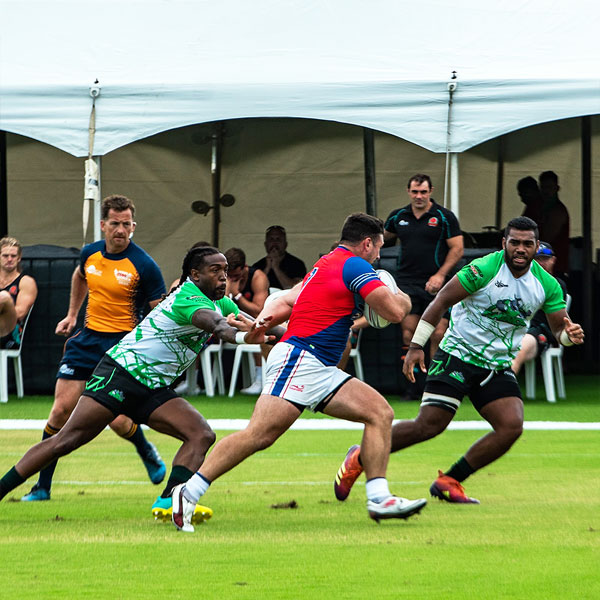 During the second session of the day, Rhinos leveled off with the notorious Ohio Aviators in a very physically-demanding match. There was little space for error, as possession was mainly that of the Aviators. However, Rhinos managed to absorb most of the pressure and dotted down the first try of the game a minute before halftime. This was a great confidence boost and placed our Rhinos on the front foot with the start of the second half. The score was unchanged up until 2 minutes before the final whistle, when Rhinos managed to create a brilliant piece of play from Aviators broken play and Jacob Hidalgo secured a thundering 12-0 lead over the opponents. /span>
Hard work had paid off, the players made it through their 2nd game as a team and very little could stand in the way of their victory reign on this Day 1.
This being said, Rhinos 3rd and final match of the day against Phoenix proved to be a much easier win for our heroes in green. They kept the pressure on defense and forced Phoenix to make handling errors of which Rhinos capitalized off properly. The score showed a 26-0 lead over their opponents at the end of the first half. Commentators referred to the team as a stampede of Rhinos flooding the field. Rhinos conceded two tries in the second half, but this was not enough to stop them from running over the goal line two more times, securing a 38-10 victory to end the day off with.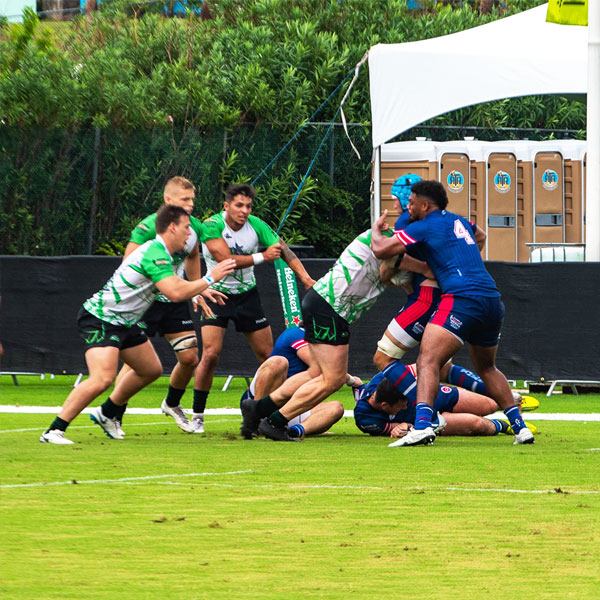 We are very proud of our Rhinos Tens team and their victorious first day at the tournament. We look forward to more good news from Bermuda during Day 2 of Round 1, 26 October 2020 when Rhinos will be facing a very different challenge taking on the Miami Suns and the most favorable team of the tournament, the London Royals.
"These two teams will bring different challenges. It will be a physical battle against them. A lot will depend on how the forwards approach the game and how they can dominate. That is probably what they are going to try and do. We are convinced that if our forwards hit the ground running and give our backs good ball, then we can do what we do best and win.", said Justin Benn.