NATIONAL
DEVELOPMENT
PROGRAM
Rugby, strength, conditioning, speed and agility programs for players aspiring to play rugby in college, be selected to the USA Rugby National Teams or professional clubs part of the Rugby Tens Championship, MLR and international leagues. Our USA Training Centers are located in San Clemente (CA). Our USA Regional Training Programs are in Sacramento (CA), San Diego (CA) and Mesa (AZ). Our South Africa programs launch in 2022 and a new training center in Cape Town in 2023.
IT'S NOT JUST ABOUT RUGBY
OUR MOST IMPORTANT GOAL IS THE WELL-ROUNDED DEVELOPMENT OF OUR ATHLETES AS PEOPLE
We help players access various domestic and international rugby opportunities through our network and USA national status. USA National Teams (U18 to Men and Women). Rhinos Pro Tens Team (World Tens Series). College Rugby (and access to scholarships). Professional Clubs (domestic and international). Top Football High-School Programs in US.
We bring together like-minded high-performance athletes aspiring to earn a spot in the USA National Teams and domestic and international professional clubs teams. With "residence" and "non-residence" programs, we develop all the attributes and qualities of a professional rugby player within a disciplined structure that includes training, competition, mentorship, optimal performance and academics.
The Academy supports local and national rugby teams with sessions planning for rugby and S&C (pre-season, in-season and off-season), coaches development programs, and priority selection to the Academy's domestic and international tournaments. For NorCal and SoCal rugby teams, we also provide access to our state-of-the-art facilities and training equipment.
In partnership with Arete7 Academy and the Rhinos Sports School, our student-athletes spend weekly time on self-reflection, understanding and developing personal values, learning how to be part of a team, developing their skills of planning, execution and focus and bringing it all into the team unity. At the Academy, it is all about achieving individual significance, and helping the team become better on and off the field.

HIGH-PERFORMANCE
TRAINING PROGRAM
Train to Compete at Your Highest Level. Residence and Commuter Programs. 18+ years old Men and Women.
COLLEGE
APLICATION
PATHWAY
Connecting Rugby Student-Athletes From All Over The World to US College Coaches.
GOAL-ORIENTED PROGRAMS WITH CONSTANT PROGRESS TRACKING AND ADJUSTMENT
Improve your individual rugby skills with our high-performance comprehensive curriculum designed by our elite coaching staff. We focus on all aspects of the game, from offense and defense to position-specific work. The program is built to constantly challenge you to improve your rugby performance via feedback from our internationally accredited team and step-by-step video instructions that help you master your skill.
Being an exceptional rugby player requires excellent skills, as well as deep knowledge of the game. These will give you the edge over your peers and make the game a lot more fun. Our "Rugby IQ" curriculum includes video analysis, opportunities to practice your ability to make the right decisions under pressure, improves your understanding of various aspects of game strategies, helps you learn and understand the laws of the game and how to use them to your team's advantage, and group discussions on various Rugby IQ topics.
STRENGTH AND
CONDITIONING
Our S&C curriculum is designed to help players perform and sustain a high-level of game play through the entire game. Players progress through phases of periodization built for different levels of strength and conditioning, and adjusted based on individual progress. We use monitoring and tracking tools such as heart monitor, body metrics, block testing etc. With access to professional training environment and state-of-the-art equipment, our athletes have all the tools to be high-performance players on the field and in the gym.
In the land of competition, speed is king. Being able to move fast, swift and with precision is of key importance to outpace and outsmart your opponents, as well as making the right decisions fast. We develop players speed and agility through optimal speed mechanics, plyometrics, max velocity, balance, acceleration and multi-directional speed training, while applying these components in various game-related situations.

We have an exclusive partnership with the Rhinos Sports School to offer our student-athletes a daily program (Mon-Fri, 9-5pm) of academics and training, to prepare athletes for success in high-school, college and life. Classes range from CA Core Curriculum to Functional Sports Health, Personal Development, Personal Finance 1 and more.
OUR PLAYERS IMPROVE IF OUR COACHES IMPROVE
WE CONSTANTLY LEARN FROM THE BEST IN THE FIELD AND ADJUST OUR TRAINING PROGRAMS TO STAY COMPETITIVE AND RELEVANT
Our Academy's coaches guide athletes through the journey of identifying their goals and what it takes to achieve them. Whether it is about earning a spot in the National Team, being awarded a rugby scholarship, attending an Ivy League college, becoming a world-class professional player, our team has the tools to help our athletes through self-reflection, mentorship and specific milestones to have the best shot at achieving these goals.
Do you want to be 100% better football player? Play rugby! Safe and effective tackling techniques, dynamic footwork, improved spacial awareness, effective run blocking, better ball catching techniques, and faster decision-making abilities are just some of the areas where rugby helps make football players 100% better.
A Rugby Sevens League for football clubs, to help young football players become more athletic, learn and improve safe tackling techniques, improve spacial awareness, speed and decision-making on the field. Organized and run by the Rhinos Rugby Academy. U8 – U14 boys and girls.
Our goal is to minimize time off the field and optimize on field performance by maximizing player health. We use proactive measures such as proper nutrition, physical therapy, chiropractic care, tracking and maintaining hydration and sleep levels etc. Our team is constantly monitoring player wellness to maintain sustainable training programs with optimal performance, and regularly incorporates injury prevention programs in the daily training.
CHRIS BROWN (USA RUGBY HEAD COACH)
The love and care taken by Rhinos Academy in providing quality academic and sporting opportunities is special to see. They are constantly looking for ways to help each individual achieve significance.
The experiences our family have gained being a part of this program, has impacted our lives so positively. The growth my children have had athletically barely rival their growth academically. The kids receive the highest level of training and preparedness for the sport they love, but for our family, it's tools the program teaches to prepare them for life that has attracted us. We truly feel blessed to be a part of this community!
PASSION FOR YOUTH DEVELOPMENT
FRANKIE HORNE (SOUTH AFRICA SEVENS NATIONAL TEAM)
Rhinos Rugby USA is the partners of SAS Rugby in the United States of America, to assist and develop youth rugby in the US for U20 and age groups below. The Academy has a carefully constructed pathway as well as a big passion for youth development which makes this partnership unique. We are already collaborating on various projects and providing IP and knowledge to grow the game in the US.
JADYN COLLINS, (RUGBY PLAYER)
While participating in the Rhinos Rugby Academy I have had the opportunity to learn from amazing players and coaches. During the Los Angeles Sevens Tournament, I had the privilege of being coached by Hope Rogers. She had such an amazing understanding of each player and their strengths and weaknesses. She was encouraging, kind, fun, and set us up for success. We ended up being undefeated and placing first in our bracket. I will never forget my teammates, coaches, and the things I learned from each of them during the tournament.
EDDIE VAN ROOYEN, (HEAD OF S&C)
From the first meeting I have felt at home. Same mission. Same vision. Same desire. Same passion. Rhinos have given me a platform to showcase my specialty, and really help the sport I love so much to grow.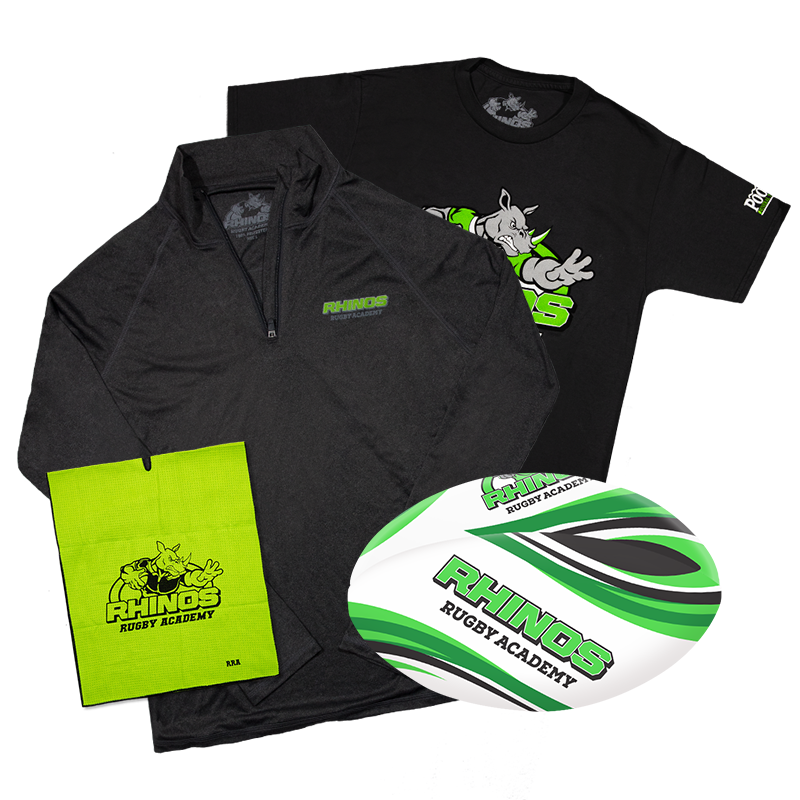 THE OFFICIAL
ONLINE STORE
Shop for Rhinos gear, training accessories, become a member, sign up for camps and domestic and international tournaments and more.