NATIONAL
DEVELOPMENT
PROGRAM
Rugby, strength, conditioning, speed and agility programs for players aspiring to play rugby in college, be selected to the USA Rugby National Teams or professional clubs part of the Rugby Tens Championship, MLR and international leagues.
Our USA Training Centers are located in San Clemente (CA). Our USA Regional Training Programs are in Sacramento (CA), San Diego (CA) and Mesa (AZ). Our South Africa programs launch in 2022 and a new training center in Cape Town in 2023.
IT'S NOT JUST ABOUT RUGBY. OUR MOST IMPORTANT GOAL IS THE WELL-ROUNDED DEVELOPMENT OF OUR ATHLETES AS PEOPLE.
College
Application Pathway
Connecting Rugby Student-Athletes From All Over The World to US College Coaches.
OUR TRAINING FOCUSES ON GOAL-ORIENTED PROGRAMS WITH CONSTANT PROGRESS TRACKING AND ADJUSTMENT.
We have an exclusive partnership with the Rhinos Sports School to offer our student-athletes a daily program (Mon-Fri, 9-5pm) of academics and training, to prepare athletes for success in high-school, college and life. Classes range from CA Core Curriculum to Functional Sports Health, Personal Development, Personal Finance 1 and more.
Our players improve if our coaches improve. We constantly learn from the best in the field and adjust our training programs to stay competitive and relevant.
Not located near a Rhinos Training Center? No problem. Our remote online training program is designed to improve your rugby performance through our specialized online curriculum designed by our high-performance coaches. We use engaging videos, live discussions and assignments among the tools to help you advance your rugby skills & IQ as well as your strength and conditioning and speed & agility performance.
CHRIS BROWN (USA RUGBY HEAD COACH)
The love and care taken by Rhinos Academy in providing quality academic and sporting opportunities is special to see. They are constantly looking for ways to help each individual achieve significance.
The experiences our family have gained being a part of this program, has impacted our lives so positively. The growth my children have had athletically barely rival their growth academically. The kids receive the highest level of training and preparedness for the sport they love, but for our family, it's tools the program teaches to prepare them for life that has attracted us. We truly feel blessed to be a part of this community!
PASSION FOR YOUTH DEVELOPMENT
FRANKIE HORNE (SOUTH AFRICA SEVENS NATIONAL TEAM)
Rhinos Rugby USA is the partners of SAS Rugby in the United States of America, to assist and develop youth rugby in the US for U20 and age groups below. The Academy has a carefully constructed pathway as well as a big passion for youth development which makes this partnership unique. We are already collaborating on various projects and providing IP and knowledge to grow the game in the US.
JADYN COLLINS, (RUGBY PLAYER)
While participating in the Rhinos Rugby Academy I have had the opportunity to learn from amazing players and coaches. During the Los Angeles Sevens Tournament, I had the privilege of being coached by Hope Rogers. She had such an amazing understanding of each player and their strengths and weaknesses. She was encouraging, kind, fun, and set us up for success. We ended up being undefeated and placing first in our bracket. I will never forget my teammates, coaches, and the things I learned from each of them during the tournament.
EDDIE VAN ROOYEN, (HEAD OF S&C)
From the first meeting I have felt at home. Same mission. Same vision. Same desire. Same passion. Rhinos have given me a platform to showcase my specialty, and really help the sport I love so much to grow.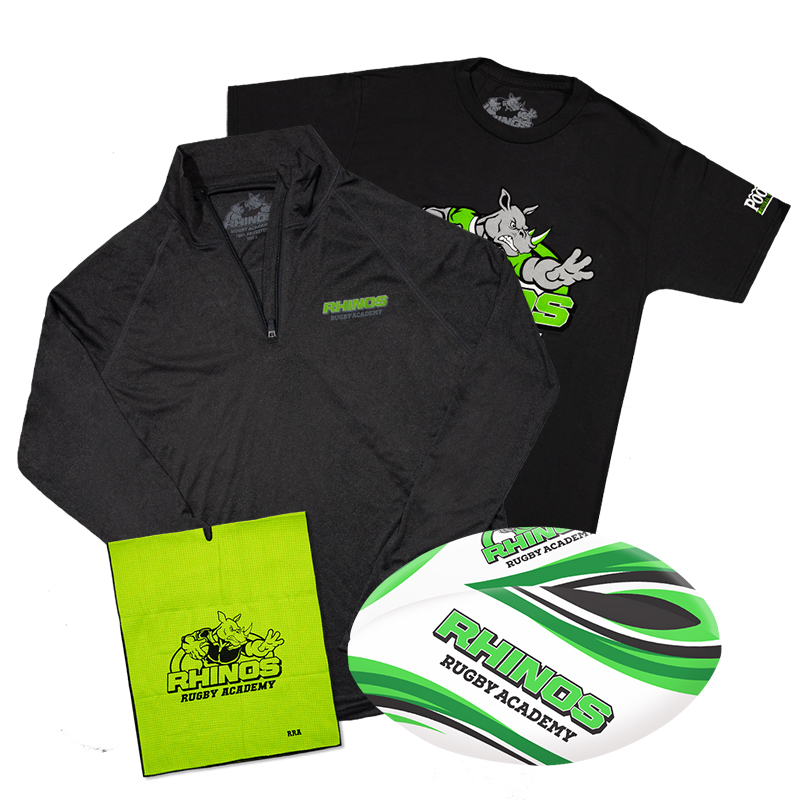 THE OFFICIAL
ONLINE STORE
Shop for Rhinos gear, training accessories, become a member, sign up for camps and domestic and international tournaments and more.